Koseveski Holiday Centre is in a beauty spot, by Lake Kose, Mustvee Municipality, Jõgeva County. The Holiday Center is perfect for birthdays, weddings, summer retreats, seminars, and so on. The Guest House has a total of 31 sleeping places. Depending on the need, it is possible to rent the entire holiday center or a separate sauna with a lounge. It is possible to spend time relaxing and actively enjoying nature – canoeing on the river, biking on a bike path, fishing and much more!
With the COVID-19 safety label, trusted to us by Jõgeva County Development and Entrepreneurship Centre, we confirm that we follow the requirements and instructions of the Government and the Health Board of Estonia established for our field of activity, we keep up to date with the information and help visitors to comply with the virus prevention rules on site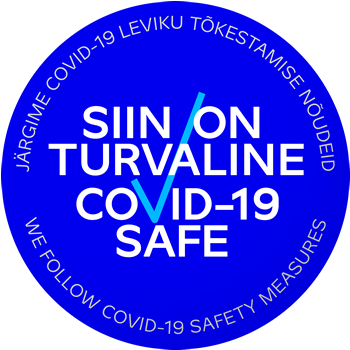 Entire Holiday Centre -1950 €+ VAT (24 hours)
Full house -1350 €+ VAT (24 hours)
Sauna with recreation room and kitchen corner – 450 €+ VAT (24 hours).
Grill house, hot tubs, water bikes and boats for extra charge.
Phone: +372 510 6008
e-mail: info@koseveski.ee
"The kind of place where you leave a piece of your soul which secretly keep calling you back."
"We are extremely pleased with the place and the service. Perfect place for a wedding reception and any other event. "
"It's genuinely nice holiday house for different events, not to mention very friendly hosts! I recommend!"
"A new great vacation spot. Nice atmosphere, different!"
Koseveski Holiday Center
Jõgevamaa Mustvee parish Koseveski village
+372 510 6008
info@koseveski.ee.